Home Okinawa Karate Shorin Ryu Kyudokan School History & Masters Higa Family
Sensei Indishe Senanayake Kyudokan Kata Kobudo Karate for Women Karate for Children
Tai Chi Meditation & Buddhism Philosophy and Articles of Interest Photo Gallery
Organizations affiliated Instructors News Links Contact Us Guest Book E-Mail Us




Yuchoku Higa Jintatsu Higa Minoru Higa Oscar Higa Benito Higa Diego Higa


- HIGA FAMILY -





The Higa Family, originally from the island of Okinawa, and belonging to a Samurai Dynasty, are the present-day representatives of Okinawa Shorin Ryu Kyudokan Karate-do.

It was the Master Yuchoku Higa, Hanshi 10th Dan, who had the idea for a school and then ran it, on a world scale, until his death in Okinawa in November, 1994.

Grand Master Minoru Higa, Hanshi 10th Dan, is the present overall worldwide director of the Kyudokan Federation, which has its headquarters (Hombu dojo) in Naha, Okinawa.

Master Jintatsu Higa, Kyoshi 8th Dan, introduced the school into South America, and ran it until his passing away.

At present it is Benito Higa, Kyoshi 8th Dan, resident in Buenos Aires, who is responsible for South America.

His brother, Master Oscar Higa, Hanshi 9th Dan, after teaching karate-do for many years with his father Jintatsu in South America, eventually became representative for the school for the whole of America, and in 1988, was appointed World Technical Director , setting up home in Los Angeles, USA.

At present he is continuing to spread the good name about the activity of the school in Palermo, where, together with his instructors, he teaches Okinawa Shorin RyuKyudokan Karate-do. Palermo city has become the central headquarters for the school in Italy and whole Europe.

Sensei, Diego Higa, 4nd Dan son of Hanshi, Oscar Higa lives in Buenos Aires, Argentina and travels frequently to Italy to receive his father's teaching and to collaborate with him in spreading the name and fame of the school.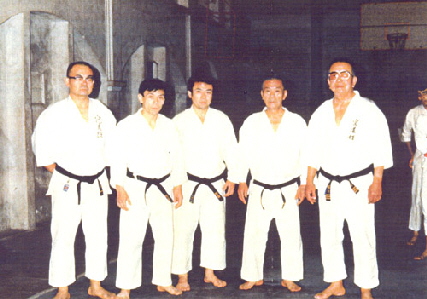 - Higa Family Teachers in Argentina (1977) -
L/R ; Minoru Higa, Oscar Higa, Benito Higa, Jintatsu Higa, Yuchoku Higa
- Higa Family Today -
L/R ; Diego Higa, Benito Higa, Oscar Higa, Minoru Higa, Noriko Higa, Kazue Higa
Yuchoku Higa
Jintatsu Higa
Minoru Higa
Oscar Higa
Benito Higa
Diego Higa
Home
Okinawa Karate
Shorin Ryu
Kyudokan School
History & Masters
Higa Family
Sensei Indishe Senanayake
Kyudokan Kata
Kobudo
Karate for Women
Karate for Children
Tai Chi
Meditation & Buddhism
Philosophy and Articles of Interest
Photo Gallery
Organizations affiliated
Instructors
News
Links
Contact Us
Guest Book
E-Mail Us